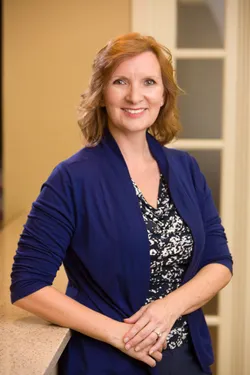 Dr. Margret B. Quimby - Has been in the field of dentistry since 1987. She graduated Magna Cum Laude from the Baltimore College of Dental Surgery, University of Maryland, Dental School. While there she received many awards for her academic and clinical achievements, including membership to OKU PHI National Dental Honor Society. Prior to that, she received her Bachelor's Degree in Dental Hygiene from the University of Maryland.
She has provided compassionate, gentle dental care to the Eastern Shore since 1997. She has focused her skills as a clinician on cosmetic and restorative dentistry and her close attention to detail produces the finest possible results for a wide array of dental problems. In 2019 she was awarded her Mastership by the Academy of General Dentistry. This award is earned by less than two percent of all general dentists and is a symbol of Dr. Quimby's commitment to life long learning and bringing the highest quality of care to her patients. Dr. Quimby has completed several workshop series with the focus on Treatment Planning and Comprehensive Restorative and Esthetic Dentistry, including implants. This has established a solid base for her expertise in comprehensive complex full mouth reconstruction.
Dr. Quimby's experience in various fields in the profession includes veneers, bonding, crowns, bridges, implant restorations, fillings, dentures, extractions, root canals and emergency care. She specializes in comprehensive cosmetic dental care. When possible, Dr. Quimby participates in the charitable event- Mission of Mercy , which provides dental care at no cost to those in need. She is also an active participant with The Maryland Foundation of Dentistry for the Handicapped (MFDH) and the Donated Dental Services (DDS) program, which provides pro bono dental care for Maryland residents who are mentally and /or physically disabled.
On a personal note, Dr. Quimby grew up in Annapolis and Kent Island. She enjoys her many pets, gardening and travel in her spare time. She is married to Dr. Charles McDonald, a local optometrist and is the proud parent of two Easton High School graduates.
Memberships & Affiliations